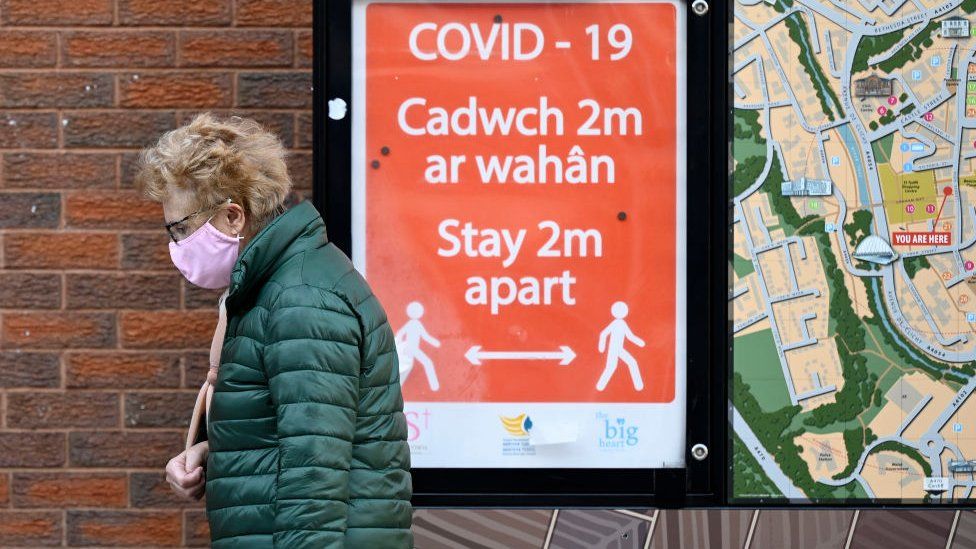 Manufacturing Apathy: How the Welsh Government Want You to Think of Their Covid Response
In the wake of the 2021 Senedd elections, in which the Labour Party acquired 30 of 60 seats, members and officials immediately started to construct a particular narrative – that Welsh Labour came out on top due to their superior response to the coronavirus pandemic. Labour Senedd candidate Kevin Pascoe said on twitter: "Our socialist First Minister Mark Drakeford and our socialist policies made such a difference on the doorstep"[1].Richard Burgon MP said on twitter: "Labour in Wales has put socialist principles into practice and has been repeatedly backed by the public."[2]. Just after the Senedd election results were announced, Mark Drakeford himself boldly proclaimed in an interview with WalesOnline: "I've absolutely lost count of a number of people [who] would have said to me and to other Labour Party campaigners, we're so glad we lived in Wales over the last 12 months, we feel we've been kept safe here in Wales"[3].
This is a narrative that is worth inspecting, as within it there is the presumption that the 'socialist' Welsh Government has indeed performed well and protected the Welsh people. To have protected the people, it is my opinion that the Welsh Government thus must have properly prepared for the pandemic, protected our most vulnerable, and protected our key workers. Rather than listening to Labour politicians re-write history, how about we analyse the evidence ourselves?
In answering these questions, I shall be drawing heavily from the book Lockdown Wales; an in-depth account of Wales' first wave [4].
First wave incompetence
How did the Welsh Government prepare for the pandemic? This is an important question as it highlights the baseline concern that the Welsh Government has for public health in the first place. It should be recognised that Wales is a nation in poor health, with 13% of Welsh people suffering with a respiratory illness[5], and 1 in 10 people in Wales receiving treatment for Asthma[6]. Given that the virus is one which would end up preying upon these conditions that particularly affect the Welsh people, one would hope that the Welsh Government would thus take it seriously.
The threat of a pandemic was already known to the UK, with the 2016 report 'Exercise Cygnus' finding that "The UK's preparedness and response, in terms of its plans, policies, and capability, is currently not sufficient to cope with the extreme demands of a severe pandemic that will have a nationwide impact across all sectors"[7].
With the government knowing this, alarm bells should've been ringing, and plans should've been underway when Wuhan, China went into lockdown in early January due to COVID related infections and deaths. However, this was not what was happening in the Senedd. During the questioning of Labour Health Minister Vaughan Gething on the 29th of January 2020, upon being asked to outline the steps being taken to protect the public from the coronavirus, Vaughan Gething said after giving his answer: "The risk to the UK is currently assessed as low…I certainly don't want to add to the impression that a more significant health risk is on its way than is likely.". This was further followed up in early March by the Welsh Governments regrettable inaction regarding the gathering of around 70,000 for a Wales v Scotland rugby match, with Vaughan Gething saying, "There is little medical reason at the moment to ban such events". The Welsh Government proved irrelevant on this front, with the Welsh Rugby Union itself cancelling the match.
It would be possible to defend these statements given that we now have hindsight, so it is important to highlight that by March, millions in Wuhan were in strict lockdown with around 3000 dead, and several northern provinces were quarantined in Italy, with around 2000 dead – with both nations making strict restrictions on school attendance, restaurants, work, and sport. The attitudes of the Welsh Government were not a product of a lack of evidence – but rather an ignorance of it. This negligence ended up very literally costing human lives – overwhelmingly working class and BAME. Were these victims able to speak today, would they be glad to have lived in Wales during the pandemic?
Protecting the vulnerable
In Wales, there are around 121,800 households containing a shielding person – an individual who cannot leave their house lest they severely risk their own health. This is around 9% of Welsh households[8]. Understanding that some of these people may live alone or with others; this puts about 183,000 people (or around 5% of the population) in a constant quarantine. These are people with organ transplants, certain cancers, severe respiratory illnesses and so on, and thus are extremely susceptible to long term damage and even death. These are the people whose safety must be prioritised first and foremost in a pandemic situation.
So, what was immediately done by the Welsh Government? It was announced in late March that letters would be sent to those shielding. These letters would contain advice on how to access medical help, food help, and so on if you were alone. 70,000 of these letters were planned to be sent out, but due to processing failures, 13,000 ended up at the wrong address[9]. This mistake was not corrected for 2 weeks.
This is not a simple error. This means that there were up to 13,000 people potentially unaware that they were placing themselves at a lethal risk, and yet another 13,000 people who were unnecessarily locking themselves away at a great mental cost. One must ask the Welsh Labour Party, were these 26,000 glad to have lived in Wales during the pandemic?
Another group of vulnerable people we must consider are care home residents. The Welsh Government was initially vigilant in preventing visitors from entering care homes, making the only vectors for infection workers and residents. One would expect that these vectors would be under constant testing. Alas, as is stated by the previously mentioned Will Hayward in Lockdown Wales: "It was not until April 29 that Vaughan Gething changed the policy to allow testing of all new residents. [A WalesOnline Investigation] revealed that 1,097 patients were discharged [from hospitals] without a test".
This catastrophic decision undeniably contributed to the 1,709 care home deaths related to coronavirus [10] – or 6.4% of all care home residents. This loss should be compared to other nations like us, e.g., Germany (0.4%), or Denmark (0.5%). The reasons for the test shortages are due to be investigated by public inquiry, but given that there are countries with far fewer casualties than ours, it can absolutely be stated that this is a uniquely Welsh failure, made by a uniquely underperforming Welsh Government, and should lead a reasonable person to ask the question: The people who knew these now dead grandfathers, grandmothers, long time family friends – are they glad to have lived in Wales during the pandemic?

Key Workers
In this pandemic, a new terminology arose – that of the "Key Worker". Those whom society would seldom function without. Setting aside my personal view that this is very literally the whole workforce, often this was used in Wales to refer to essentially anybody working within or alongside PHW and the NHS Wales. After all, there were no national doorstep claps for ASDA and Tesco workers.
So how did these healthcare workers fare amidst the Pandemic? We have already seen how no asymptomatic testing for incoming care home patients has caused damage to the residents, but attention must be drawn to the fact that this also endangers and inhibits workers. Aside from the obvious health concerns, those workers that have been in proximity to a covid positive person but show no symptoms themselves are forced to self-isolate for two weeks, leaving our most vulnerable with one less person to care for them.
These workers are overwhelmingly women, and 56% of care workers in Wales don't even earn a real living wage[11]. Given that they have been dealt a terrible hand by the government, the least they could do with is a wage raise. However, this has not been the case. The best care workers have received is a series of hefty £500 payments – a bribe for the failures of government. Despite as little as that is – not even a month of rent on average – often workers would see as little as £125 of it, with proportions of the payment being taken as income tax and deductions from Universal Credit[12].
It is important to emphasise that healthcare workers risked their lives daily during the pandemic – often with severe shortages in PPE and tests, partly due to the Senedd's tendency to fall over whenever the UK asserted itself regarding PPE and testing reagent purchases, such as in the Roche testing deal[13]. When PPE was available, as is stated by Will Hayward in Lockdown Wales: "[A committee found that] "Despite the high proportion of female clinicians working in the NHS, PPE masks are largely designed for male frames…[A worker stated] that [the PPE masks] only passed fit testing when the mask was tied very tightly"". (This is a problem that goes beyond PPE masks and is well discussed in Feminist City by Leslie Kern). These failures to protect our women workers quite frankly lead some of them to an early grave. One wonders if they were glad to have lived in Wales during the pandemic.
Conclusion
Despite the failures I have listed – that the Welsh Government was ill-prepared despite early warnings, that the Welsh Government cost the lives of our most vulnerable, and that the Welsh Government risked our most important workers during the pandemic – it would be possible to reject all of this on the premise that these issues were not uniquely Welsh.
We live next to England, led by the inept Conservative Government, who opposed protecting the English public in favour of giving millions in deals to Tory donors. Boris Johnson would frequently give confusing advice that would put the Welsh (and Scottish and Irish) people at unnecessary risk. It would be possible to state that we did what we could given who we are surrounded by. Thus, we can take pride in the Welsh Government for doing its best.
My argument here is simply that the Welsh Government did not in-fact do its best. Despite all the devolved powers given to us – Housing, Health, Education, etc – we set ourselves up for many of the same problems, and sometimes performed pathetically worse compared to the UK government, like in the instances of care homes.
It is this lack of authority on international purchases of PPE, or this lack of initiative on asymptomatic testing in care homes, or this lack of respect for our key workers that should lead any respectable person to fill with rage. If this pandemic has exposed anything, it is that the system we have is not designed to protect us. It either does not have the authority to protect us, or in instances that it does, it will not use that authority to protect us. One must question what even is the point of devolution if we avoid using our devolved powers? What does devolution even do for the people of Wales beyond give them a façade of control?

7,300 people – and counting – are dead. Often, they died alone, and they died early. How glad they must've been to have lived in Wales during the pandemic.
References:
[1] Pascoe, K., 2021. Twitter [Online]. Available from: https://twitter.com/KevinPascoe/status/1390744775981215744
[2] Burgon, R., 2021. Twitter [Online]. Available from: https://twitter.com/RichardBurgon/status/1390957388774232067
[3] Drakeford, M., 2021. The Mark Drakeford interview: 'People told me they were glad to have lived in Wales through the pandemic' [Online]. WalesOnline. Available from: https://www.walesonline.co.uk/news/drakeford-senedd-election-interview-labour-20554698
[4] Hayward, W., 2020. Lockdown Wales. Bridgend, Wales: Seren.
[5] 2009. Asthma [Online]. NHS Wales. Available from: https://www.wales.nhs.uk/ourservices/unscheduledcareconditions/asthma
[6] 2017. Asthma facts and statistics. Asthma UK. Available from: https://www.asthma.org.uk/about/media/facts-and-statistics/
[7] 2016. Exercise Cygnus Report. UK: Public Health England.
[8] 2020. Shielded households (composition and characteristics during the coronavirus (COVID-19) pandemic) [Online]. Wales: Welsh Government. Available from: https://gov.wales/shielded-households-composition-and-characteristics-during-coronavirus-covid-19-pandemic-july-2020-html
[9] Martin, P., 2020. Coronavirus: 13,000 shielding letters in Wales go to wrong addresses [Online]. UK: BBC. Available from: https://www.bbc.co.uk/news/uk-wales-politics-52283236
[10] 2021. Notifications to Care Inspectorate Wales related to COVID-19 in adult care homes: 1 March 2020 to 29 January 2021 [Online]. Wales: Welsh Government. Available from: https://gov.wales/notifications-care-inspectorate-wales-related-covid-19-adult-care-homes-1-march-2020-29-january-2021-html
[11] Cominetti, N., Gardiner, L., Kelly, G., 2020. What happens after the clapping finishes? [Online]. UK: Resolution Foundation. Available from: https://www.resolutionfoundation.org/app/uploads/2020/04/Care-workers-spotlight.pdf
[12] 2020. UNISON writes to Prime Minister: "Do the right thing on Welsh care workers' bonus" [Online]. UK: UNISON. Available from: https://cymru-wales.unison.org.uk/news/2020/06/unison-writes-prime-minister-right-thing-welsh-care-workers-bonus/
[13] 2020. Coronavirus: 'Collapsed' Roche testing deal correspondence withheld [Online]. UK: BBC. Available from: https://www.bbc.co.uk/news/uk-wales-politics-52977589